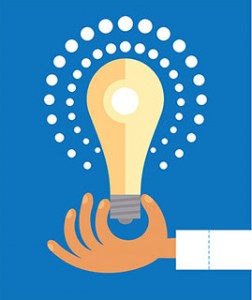 To cap off the Second Annual FKKS Litigation Ethics Summit, Nicole Hyland (Partner), Amelia Brankov (Counsel), Tyler Maulsby (Counsel), and William Lawrence (Associate) challenged some brave audience members to participate in a contest of ethical wits.  In a rousing game show format, our contestants grappled with tricky hypotheticals and our panel explained best approaches to these ethical quandaries.  The Game Show covered a wide range of topics and elicited a lively debate among the panelists, contestants and audience members.  The Game Show also served as a reminder that the New York Rules of Professional Conduct ("RPCs") are not the only source of guidance for attorney conduct.  When faced with an ethical dilemma, attorneys many need to look beyond the rules and ethics opinions to statutes, case law, and court rules.
Secret Recordings
Is it permissible for a lawyer to secretly record a third party to gather evidence for a possible claim?  Tyler walked the audience through the various ethics opinions in New York that address whether a lawyer may secretly record a third party and, if so, under what circumstances.  The ethics opinions reflect a range of views, but the general consensus is that a lawyer may engage in secret recording under certain circumstances.  For example, the American Bar Association (ABA) and the New York County Lawyer's Association (NYCLA) opinions state that a lawyer may engage in secret recording so long as doing so is legal and does not violate a specific ethics rule.  The New York City Bar Association, however, has taken a more restrictive approach and condones secret recording only if it is in furtherance of a "generally accepted public good" such as investigating a civil rights violation.  The takeaway is that, before secretly recording a conversation, a lawyer should weigh carefully the purpose of the recording and whether there are alternative avenues for memorializing the conversation.
Privilege and the Presence of Family Members
When does the presence of a family member during a meeting with a potential client waive privilege?  Amelia led a dynamic discussion on this topic prompted by Fox v. Alfini, 432 P.3d 596, 602 (Colo. 2018), a recent decision that surprised some experts.  The Fox court held that the presence of a medical malpractice client's parents at an initial interview waived the attorney-client privilege and ordered plaintiff's counsel to produce a recording he had made of the meeting.  The court explained that the presence of a third party during an attorney-client communication will ordinarily destroy the privilege, unless the third party's presence is reasonably necessary to the consultation.  As Amelia noted, a New York court might reach a different outcome in a similar case, perhaps giving more consideration to the client's need for a family member's emotional or physical support during the attorney-client meeting.  The bottom line is:  Attorneys should think very carefully before allowing a third party to participate in otherwise privileged conversations.  If the attorney concludes that a third party's presence is necessary, it would be prudent for the lawyer to document the basis for that determination.
Inadvertently-Sent Documents
When any attorney accidently sends opposing counsel a potentially privileged document, most New York lawyers might expect the ethics rules to tell them exactly what to do.  As William explained, however, New York's version of RPC 4.4(b) merely instructs the receiving lawyer to "promptly notify the sender."  The rule is silent as to what actions the lawyer must take after fulfilling that basic duty.  For example, to determine whether to comply with opposing counsel's instruction to delete or return the document, the receiving lawyer may need to consider other law in that jurisdiction, standing court orders in the case, prior agreements concerning discovery, duties to our clients, and the lawyer's own professional judgement.  Even though the ethics rule does not expressly require the receiving lawyer to delete the document, there are risks to ignoring such instructions, including possible disqualification if the Court later determines that the document is privileged.  If the lawyer has reason to believe the document is not privileged or that privilege is waived, a prudent approach is to promptly petition the Court for further guidance, before attempting to use the document.
Lawyers Moving Between Law Firms
Lawyers are moving between firms with increasing frequency.  When a lawyer decides to make a move, she must navigate a tricky web of legal and ethical duties.  Nicole walked the audience through the preferred order of operations and the potential pitfalls if a lawyer gets it wrong.   For instance, as Nicole explained, a lawyer looking to change firms should generally notify her current firm before discussing the move with her clients.  Also, before the lawyer takes any files from her old firm, she should obtain written consent from the client.  The lawyer should also make sure not to recruit any associates or other staff members while still employed as a partner at the prior firm, since partners still owe fiduciary obligations to their current firm.  Of course, these restrictions may, at times, give way to practical concerns, but a lawyer should think carefully about the best way to balance these considerations.
Whistle-Blowing Lawyers
Finally, Tyler addressed whether a lawyer may disclose a corporate client's malfeasance, particularly if it involves public health or safety.  Under RPC 1.6, the lawyer is generally required to maintain the confidentiality of her client's troubling behavior, even if breaching that confidence might serve a broader public good.  Tyler explained that RPC 1.6 contains several permissive exceptions to confidentiality, which allow (but do not require) lawyers to disclose confidential information under limited circumstances.   Some examples are "to prevent reasonably certain death or substantial bodily harm" or "to prevent the client from committing a crime."  The lawyer should keep in mind, however, that RPC 1.13 (which governs the representation of organizational clients) may require her to escalate any concerns up through the reporting structure of the organization, potentially to the highest authority of the corporation, before deciding to disclose confidential information.
Related Posts
« Aggressive Bargaining: The Legal and Ethical Boundaries of "Me Too"-era Settlements (at Frankfurt Kurnit's Litigation Ethics Summit) ABA Formal Opinion 489 Limits Restrictions on Departing Partners »